National rehabilitation course in spinal deformities
On 20 and 21 June 2019 in Vall d'Hebrón, two days will be held to inform professionals working with spinal deformities the physiopathology of the spine in the sagittal plane and its clinical repercussions, the evidence of current treatment and its repercussions in the quality of life and on the implication of sport, the current psychological and physiological techniques in the adult.
Sonia Martinez will present a clinical case of the Schroth BSPTS treatment on Friday, with one of our patients who makes such treatment at the Sonia Martinez Center.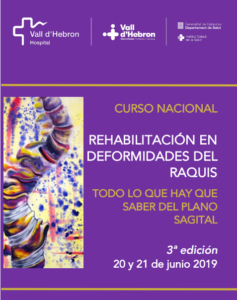 Related Posts
Merry Christmas and a happy new year 2020!