Sonia Martínez founded the CSM in 2006, before that she had worked for 8 years in Rigo-QueraSalvà center; a reference in the treatment of spinal deformities.CSM was born from the aim of doing different treatment of physiotherapy and osteopathy than others. An individual treatment, which seeks cause of the problem and not just treat the symptoms. We have an holistic mentality that understandglobality of the organism. Our treatments require a close treatment with the user. It based on honesty, respect and the struggle to give a better quality of life. These are our priorities.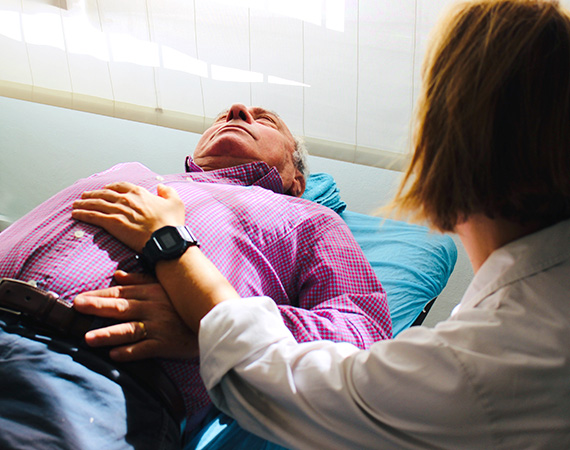 TREATMENT BASED ON THEEXPLORATION AT DIFFERENT LEVELS:
Structural

Visceral

Psycho-emotional

Biochemical

Interrelation between organs
RETURN TO RESEARCH HEALTH
Health is the breath of life. Return to reestablish the tide. Find the balance in all the states of the organism.
REBALANCE OF THE AGENCY
Rebalances body focusing on the structure of the body, improving the functioning of the body.
SOFT AND SECURE TECHNIQUES
Soft and safe techniques adapted to each patient and their needs are used, always taking into account the age, sex, type and health status of the patient.

PATIENT: MIND, BODY AND SPIRIT INTERACTING RECIPROCALLY
The Osteopath sees the patient as a whole in which mind, body and spirit interact and relate to each other.
WE WORK FABRICS AND BODY FLUIDS
Osteopaths work with all tissues and body fluids, although we often use the musculoskeletal system to get to the tissue less accessible.
01
MUSCULOSKELETO DYSFUNCTIONS
Musculoskeletal dysfunctions that occur with pain at the level of the spine vertebral and extremities, caused by traumatisms, accidents, repetitive movements, bad postures, alterations of visceral function, stress or others. Treatment of migraines, dizziness, bruxism, problems of temporo-mandibular occlusion, otitis, disorders gynecological, circulatory, digestive, endocrine and pediatric.
02
DIGESTIVE
Disorders Digestive disorders: irritable bowel syndrome, constipation, heartburn, abdominal spasms …
03
STRESS, MIGRAINE AND GENERALIZED TIREDNESS
Others: stress, tension migraines and generalized fatigue.
04
MUSCULOSKELETOUS DISORDERS
Musculoskeletal disorders: muscle contractures, tendinitis…
05
GYNITOURINARY DISORDERS
Genito-urinary disorders: incontinence, menstrual pain, dyspareunia…
06
IMPROVEMENT OF VITAL STATUS
Improves the vital state.
07
RESPIRATORY DISORDER
Respiratory disorders: recurrent colds, sinusitis, non-productive cough …
08
PEDIATRIC DISORDERS
Pediatric disorders: colic, vomiting, sequelae derived from the application of orthodontics, sleep disorders, hyperactivity, learning difficulties, dyslexia, and other growth problems.
09
PREVENTION OF DYSFUNCTIONS AND INJURIES
Prevention of dysfunction and injuries of body.
Reserve your appointment with our specialists. Call us:
93 245 42 10